Set includes:
⭐3 Piece Cooking Cutting Boards
⭐Stand Mixer & Air Fryer
⭐20 Piece Pots and Pans Set Nonstick
⭐15 Piece high carbon stainless steel with knife block
⭐24 Piece Stainless-Steel Flatware Set
⭐58 Piece Dinnerware Set
💥Limit one set per person!
Product Description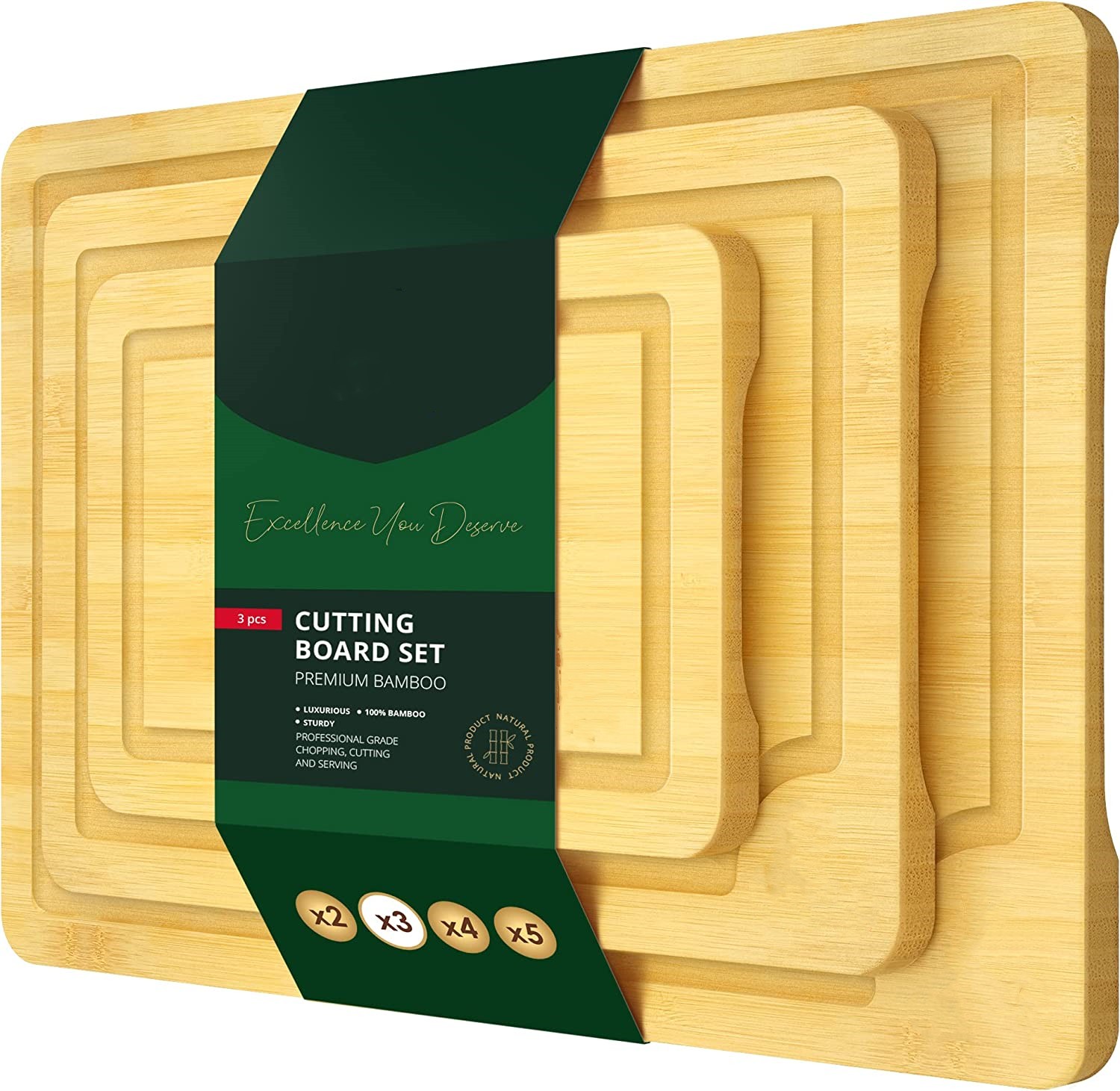 THREE BOARDS FOR ALL KITCHEN TASKS. It's a Bamboo Cutting Board, 3 pcs set - a small board on a trip, a medium-sized one for small chopping tasks, and the big one during party meal prep. 3 optimal sizes: 15"x10"x0.6", 12"x8"x0.6", 9"x6"x0.6". The art of cooking begins with this cutting board set! Cutting boards and butcher blocks.

SIDE HANDLES FOR A KILLER SERVING TRAY. Use the cutting-chopping-cheese board as a platter to serve cheese and charcuterie - it is comfortable to carry and good-looking.

KNIFE-FRIENDLY SURFACE. Smooth bamboo wood doesn't dull your knives and feels easy to cut on. Also, there will be no scratches and marks on the board. The high-quality cutting board set is made from bamboo and will work great for your chopping boards needs.

NO MESS WHEN CUTTING. Cutting boards for kitchen have deep grooves that catch meat and fruit juices. Your workspace will be clean and well-organized even during the busiest cooking moments.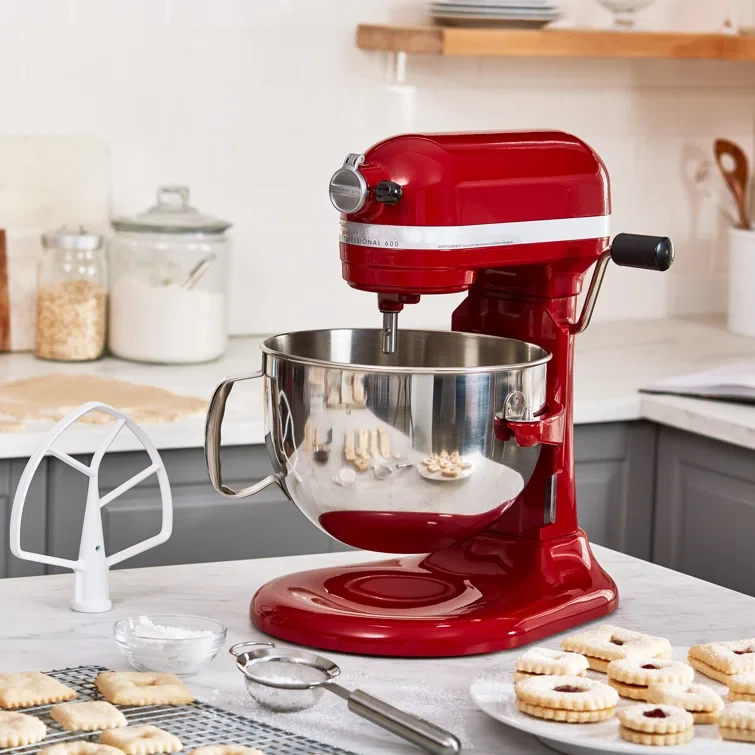 Built to take it all on with the durable and built-to-last metal construction, and 67 touchpoints around the mixer bowl for great mixing results.
6-quart stainless steel bowl with a comfortable handle for small or large batches, to mix up 13 dozen cookies* in a single batch. Dishwasher safe. *Using the flat beater; 28g dough each.
Bowl-lift design for maximum stability. Great for kneading even the toughest dough, mixing dense ingredients, or bigger batches. The lever smoothly raises the mixing bowl into position, and the bowl attaches at 3 lock points for maximum stability.
10 speeds for nearly any task or recipe. From mixing ingredients on the stirring speed to whipping cream at speed 8, you'll get thorough ingredient incorporation every time.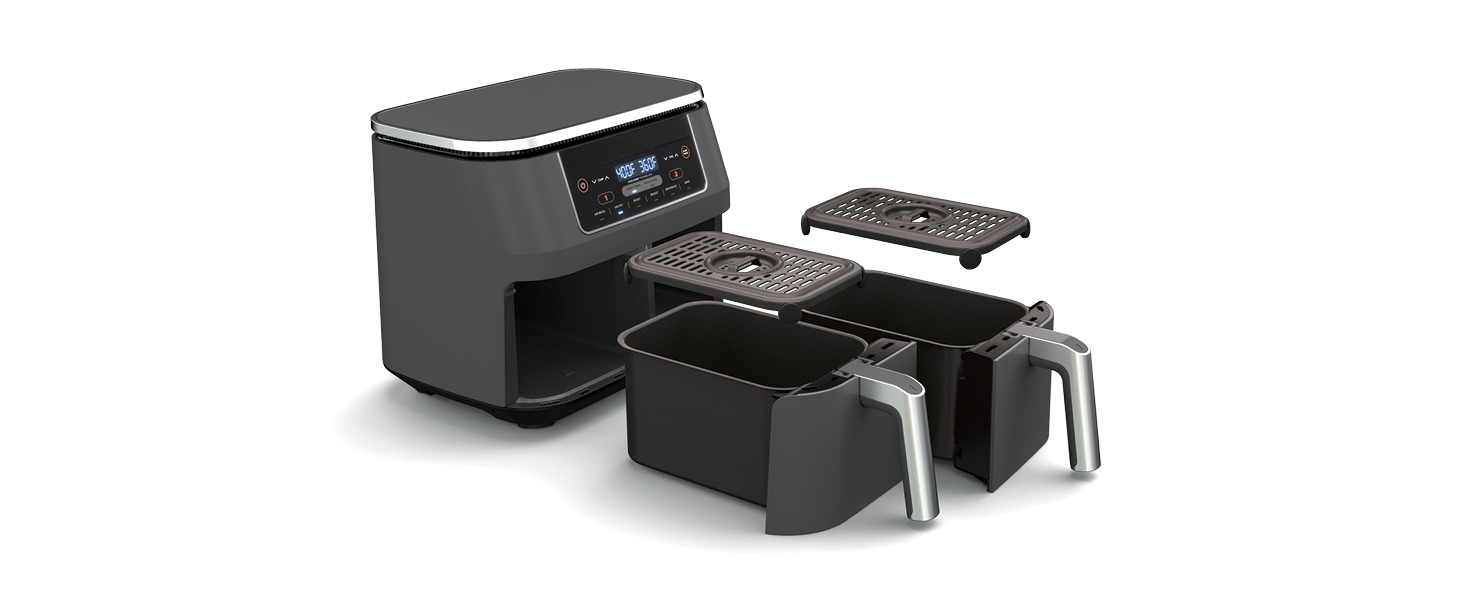 2 INDEPENDENT BASKETS: The original Air Fryer with 2 independent baskets, the XL air fryer lets you cook 2 foods, 2 ways, at the same time, eliminating back-to-back cooking like a traditional single-basket air fryer.

SMART FINISH & MATCH COOK: You to choose between the Smart Finish feature, which unlocks cooking 2 foods 2 ways that finish at the same time, and the and a Match Cook button to easily copy settings across zones for full 8-qt capacity.

6-IN-1 FUNCTIONALITY: Includes 6 versatile cooking programs: Air Fry, Air Broil, Roast, Bake, Reheat, and Dehydrate. The baskets can be washed in the dishwasher or by hand.

XL CAPACITY: The 8-quart air fryer capacity lets you fit mains and sides at the same time for making quick family meals, or up to 4 lbs. of French fries or chicken wings.

SEPARATE HEATING ZONES: 2 independent 4-quart zones have their own cooking baskets, cyclonic fans, and rapid heaters.

EASY CLEANING: Easy-to-clean baskets and dishwasher-safe crisper plates.

LESS FAT: Up to 75% less fat than traditional air frying methods. Tested against hand-cut, deep-fried French fries.

WIDE TEMPERATURE RANGE: 105°F to 450°F allows you to gently remove moisture from foods or quickly cook and crisp foods with convection heat.

WHAT'S INCLUDED: DualZone Air Fryer, (2) 4 Quart Baskets, (2) Nonstick Crisper Plates, 15 Recipes, Additional Meal Options & Cooking Charts.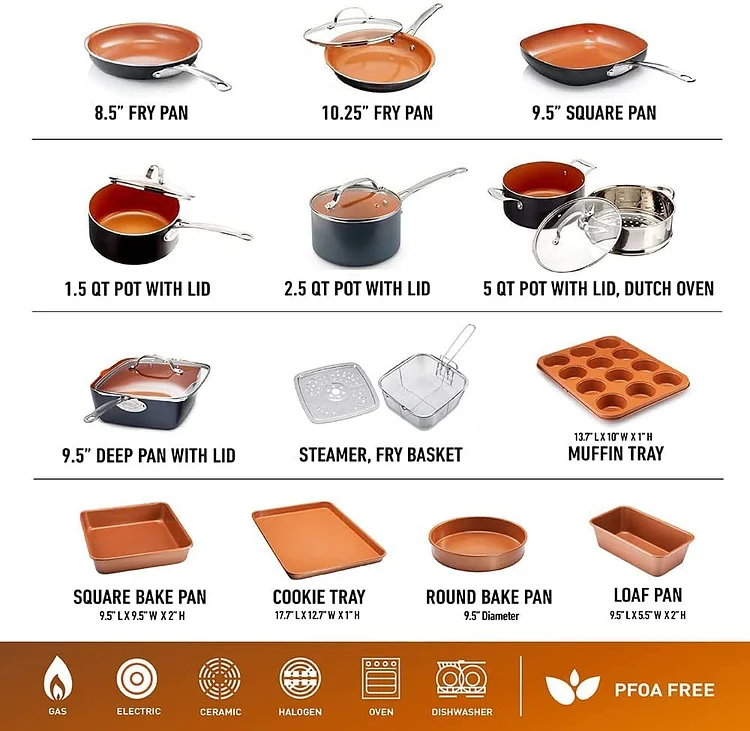 Complete Kitchen In A Box: Includes everything you need to completely outfit your kitchen and take cooking and baking to the next level, includes a full cookware set with frying pans, skillets, saucepans, stock pots with tempered glass lids, a deep frying and casserole pan with a steamer tray, fry basket and lid plus a complete PRO baking set with cookie sheet/jelly roll pan, loaf pan, muffin tin, square pan and more!

Contents: this set includes 8.5" fry pan, 10.25" skillet with tempered glass lid, 1.5 quart sauce pan with tempered glass lid, 2.5 quart sauce pan with lid, 5 quart stock pot with lid, stainless steel steamer rack, 9.5" square shallow pan, 9.5 deep square casserole pan with tempered glass lid, stainless steel frying basket, steamer insert, 12 x 17 XL cookie sheet, 9.5 x 9.5 square baking pan, loaf pan, 9.5 round baking pan, 12 cup standard sized muffin pan

Ultimate Ceramic Nonstick: The Steel nonstick cooking surface is coated three times and then reinforced with diamonds to deliver the ultimate food release. No seasoning or even oil or butter needed, makes for healthier eating, and provides for hassle free, 1-2-3 cleanup.

Healthy & Non-Toxic: The Steel coating is composed of ceramic and reinforced with titanium, ensuring this frying pan free of PFOA, PFOS, lead & cadmium for an eco-friendly, healthy experience for your entire family

Metal Utensil Safe: The coating of the pan is infused with diamonds, the strongest material on earth which makes it durable enough to withstand metal utensils, spatulas, spoons, whisks and even electric beaters while delivering years of outstanding, nonstick use

Effortless Cleanup, Dishwasher Safe: Spend less time with cleanup! After all the cooking and prepping is done, place cookware in the dishwasher for quick and easy cleanup.

Stovetop & Oven Safe: Compatible with gas, electric, glass cooktops & oven safe up to a sizzling up to 500 Fahrenheit, lids included!
The set includes 3-inch paring knife, a 5-inch serrated utility, a 7-inch santoku knife hollow edge, an 8-inch chef's knife, an 8-inch bread knife, six 4.5 inches steak knife set, sharpening steel, kitchen shears, and a hardwood block.
Quality manufacturing: Crafted from high carbon stainless steel to create unmatched performance and value
Quality manufacturing: Knives fabricated from high-quality stainless steel.
Very durable: Single-piece precision-stamped blade construction provides durability
Precise cutting: Professional satin-finished blade boasts precision cutting and is finely honed for long-lasting sharpness.
Easy clean-up: Dishwasher safe; hand wash recommended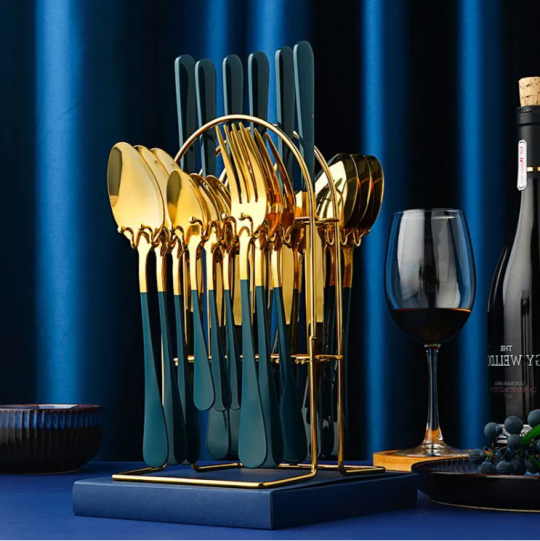 Material: Stainless steel
Polishing process: cloth wheel light (mirror polishing)
Style: Western
Stainless steel material: 410
Color: rack 24pc-silver, rack 24pc-gold, rack 24pc-green gold, rack 24pc-black gold, rack 24pc-red gold, rack 24pc-pink gold, rack 24pc-platinum, rack 24pc -Color, rack 24pc-black, rack 24pc-rose gold
Packing list:
1 suit x tableware, including
Knife*6
Fork*6
Spoon*6
Tea spoon*6
Storage rack*1